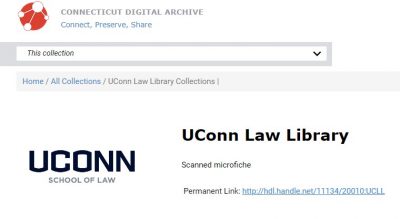 In every case heard by the Connecticut Supreme and Appellate Courts, the parties file the record from the trial court as well as briefs and appendices laying out their legal arguments. These records and briefs are valuable research material used to understand how the issues were presented to the court, what arguments the court found persuasive (and which it didn't), and for placing important Connecticut cases into context. Further, the record and appendices sometimes can be the only source for trial-level filings and unreported decisions related to the case. 
Connecticut Supreme Court Records and Briefs are available beginning with some cases from the 1800s, and more completely available in the 20th century. Supreme Court Records and Briefs from 1871 to 1986 are available in printed volumes, but beginning in 1986, the format changed to microfiche. Briefs filed in the Appellate Court, which was created in 1983, were only made available in microfiche. Although the format change was good for storage space and preservation, it limited accessibility, especially as researchers' familiarity with accessing materials on microform declined with the rise of electronic research. 
In 2017, Practice Book Rule 60-7 was amended to require e-filing for all Supreme and Appellate Court cases, meaning that the records and briefs from that year forward are freely available online. However, there is a treasure trove of research material still only available on microfiche. 
The Law Library has embarked on a project to digitize and make these records and briefs available freely online. Although this is a long-term project, the first year of the Supreme Court Records and Briefs – 1986 – is already available. Documents will be added on a continual basis until they are all available. 
If you need to locate the briefs for a Connecticut Supreme or Appellate Court cases, this guide provides all of the information needed for all of the years available in the library and online.