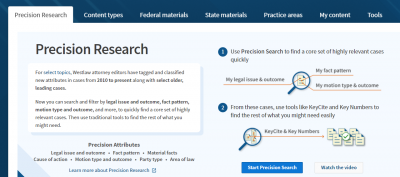 As you are returning for the Spring semester, you may notice some changes when you log into Westlaw.  Westlaw Precision is now integrated right into Westlaw Edge.  Your account will automatically convert to this update and will include a new interface and 6 new features.  The underlying content of the subscription (secondary sources & primary law) will remain the same. 
A major difference you will notice on the homepage is the Precision Research feature.  Otherwise, you will see the same content categories available. 
Westlaw Precision allows you to search and filter by legal issue and outcome, fact pattern, motion type and outcome, to quickly find a core set of highly relevant cases.  
 Other highlights include: 
KeyCite Cited With

:

 Shows related cases that have a pattern of being cited together even if neither cites the other. 

 

KeyCite Overruled in Part

:

 Indicates, via a new red-striped flag, that a case has been overruled in part and enables navigation directly to the language in the case discussing the point of law that has been overruled. 

Graphical View of History:

 Displays a graphical visualization of research history, mapping out each step and highlighting the searches and documents with more research interaction. 

 

Keep List/Hide Details:

 Allows users to save cases of interest and hide cases they have determined are not relevant to current research.  

 

Outline Builder:

 Enables users to organize research by dragging and dropping text into a customizable outline. Linked and formatted citations and KeyCite information integrate automatically, and the outline can be exported to begin drafting a brief. 

 
Want more info?  Check out the YouTube tutorials below: 
Let us know if you have any questions at refdesk.lawlib@uconn.edu, and happy researching!